Masonic Avenue Streetscape Improvement Project
Project Update - Updated on May 18, 2017
Overnight Work
Crews continue to perform overnight work at the Turk St. and Masonic Ave. intersection. The contractor is working on the Overhead Contact System (OCS) for Muni buses. Crews are replacing, relocating, and readjusting some of the Muni overhead wires. The work is low-impact overnight work and causes minimal impact to the public. The workdays will be Sunday - Thursday with the work hours being 11pm to 4:30am. The overnight work is expected to continue through next week.
Curb-ramp Work
Our contractor was scheduled to commence curb ramp work at the SE corner of Fell and Masonic last week however that work has been slightly delayed. That work will likely commence in about 2 weeks. That phase of work will impact the Panhandle Bike Way and bicyclists will need to dismount their bikes and use the crosswalks to navigate through the area. The curb ramp work at the SE corner of Fell and Masonic is expected to take 1½ weeks to complete. 
Sewer Work
The contractor continues installation of the new sewer main and laterals (connections between the mainline and sidewalk) on Masonic Avenue. 
Water Work
The contractor continues water main installation work. When the San Francisco Water Department (SFWD) schedules final water service connection work, there may be a temporary interruption to water service. Final tie-in work is traditionally done overnight to minimize disruptions to water service. Typically, there's less demand for water overnight. Change-over connections are typically performed during daytime operations. SFWD will notify you in advance of any overnight tie-in work or interruption to water service. 
Electrical Work
The contractor has begun installing pole foundations and electrical conduits for new street lighting near Fell Street. 
*** Please Note:  The schedule is subject to change due to rain, equipment breakdown, and/or unforeseen field conditions. Please see the posted "no parking" barricades for exact parking restrictions. Parking restrictions may vary per block. ***
Sign up here to get email about project updates.
Project Information
The Masonic Avenue Streetscape Improvement Project, between Geary Boulevard to the north and Fell Street to the south, will provide improvements for pedestrians, bicyclists, motorists and transit riders. The goal of this project is to safely and efficiently accommodate the needs of all roadway users. The proposed improvements are the result of a planning process among Public Works, the Planning Department, SFMTA and Masonic Avenue residents and businesses.
--------------------------------------
--------------------------------------
Project improvements include a new landscaped median, new cycle tracks, widened portions of sidewalk, repaving, bus bulb-outs, new street trees and sidewalk planters, new lighting in medians and pedestrian scale lighting on sidewalks and the conversion of a triangular space and road on the southwest corner of Geary Blvd. and Masonic Ave. into a small park and resident traffic only road, which includes public art.
Masonic Avenue: typical existing roadway section

Masonic Avenue: typical proposed roadway section
Rendering - Masonic Avenue and Turk Street - Option 2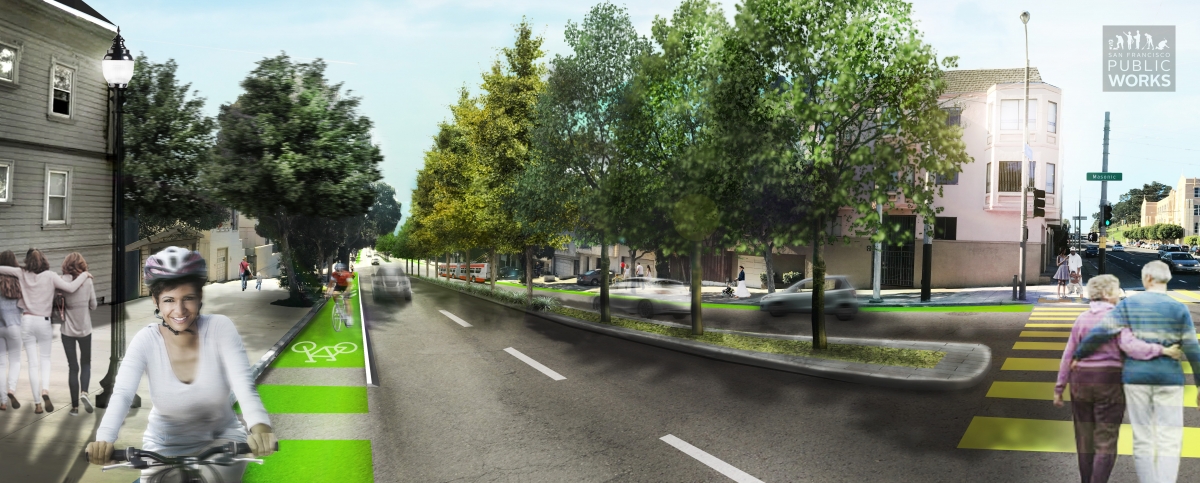 Plaza Rendering at Masonic Avenue and Geary Boulevard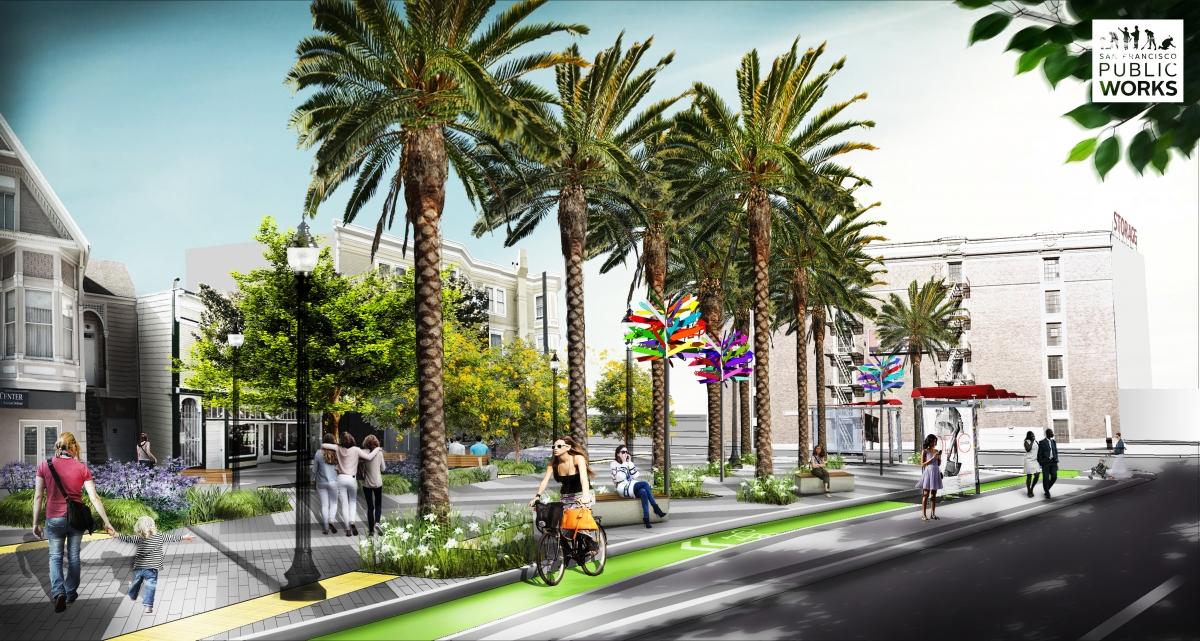 Presentations
Schedule
Community outreach and planning phase: Completed. Conducted 2008-2012.
Design and bid phase: Winter 2014 to Fall 2015.
Construction phase: July 2016 to December 2017.
STATUS In Progress
Location
Masonic Avenue from Geary Boulevard to Fell Street
District
Start Date July 2016
Completion Date January 2018
Project Manager
David Froehlich - (415) 558-4041
Project Team
Public Works
Municipal Transportation Agency
Planning Department
Shaw Pipeline, Inc.
Contact
Alex Murillo - Public Affairs Officer