Masonic Avenue Streetscape Improvement Project
Project Update - October 4, 2017
Overnight Work - S.F. Water Department 
The San Francisco Water Department (SFWD) is scheduled to perform overnight water tie-in work near the Masonic & O'Farrell/Anza intersection and the Masonic/Geary intersection. The work is scheduled for both Wednesday, October 11, 2017 and Thursday, October 12, 2017. The overnight work hours will be 11 PM to 3 AM.

On Wednesday (10/11), SFWD crews will complete tie-in work near the Masonic/O'Farrell intersection. The work will occur in the northbound lanes. Water service to the City Center Plaza will be interrupted during this phase of work. The following night, on Thursday (10/12), crews will complete tie-in work near the southwest corner of the Masonic/Geary intersection.

SFWD will often schedule their tie-in/change-over work at night since that's when there's the least demand for water service. We apologize in advance for any inconvenience caused by the overnight work. 
For additional information on SFWD's overnight work, please call (415) 550-4956.
Concrete street base repairs
Crews continue street base repairs along Masonic Avenue. The concrete street base is located underneath the asphalt roadway. During this phase of construction, crews will saw-cut, remove the damaged/broken street base and replace it with fresh concrete. Street base repairs are key in advance of final paving and help prolong the life of the new roadway. Final paving is still several months away. During street base repairs, construction crews will funnel Masonic Avenue down to one lane in each direction between Hayes and Fulton streets. This phase of work is expected to result in delayed travel time along the busy arterial traffic route. Please consider using alternate routes. 
Curb-ramp Work
Curb ramp work continues on Masonic Avenue between Fell and Fulton streets. This type of work will continue for the foreseeable future. 
Sewer Work
The mainline and lateral work is complete along Masonic Avenue however catch-basin and culvert work continues.
Center Median
The contractor continues work on the new center median. 
*** Please Note:  The schedule is subject to change due to rain, equipment breakdown, and/or unforeseen field conditions. Please see the posted "no parking" barricades for exact parking restrictions. Parking restrictions may vary per block. ***
 
Sign up here to get email about project updates.
Work Hours
Monday to Friday, 7 AM to 6 PM
Saturday & Sunday, 7:30 AM to 7 PM
Weekend work may occur on occasions. 
Project Information
The Masonic Avenue Streetscape Improvement Project, between Geary Boulevard to the north and Fell Street to the south, will provide improvements for pedestrians, bicyclists, motorists and transit riders. The goal of this project is to safely and efficiently accommodate the needs of all roadway users. The proposed improvements are the result of a planning process among Public Works, the Planning Department, SFMTA and Masonic Avenue residents and businesses.
--------------------------------------
--------------------------------------
Project improvements include a new landscaped median, new cycle tracks, widened portions of sidewalk, repaving, bus bulb-outs, new street trees and sidewalk planters, new lighting in medians and pedestrian scale lighting on sidewalks and the conversion of a triangular space and road on the southwest corner of Geary Blvd. and Masonic Ave. into a small park and resident traffic only road, which includes public art.
Masonic Avenue: typical existing roadway section

Masonic Avenue: typical proposed roadway section
Rendering - Masonic Avenue and Turk Street - Option 2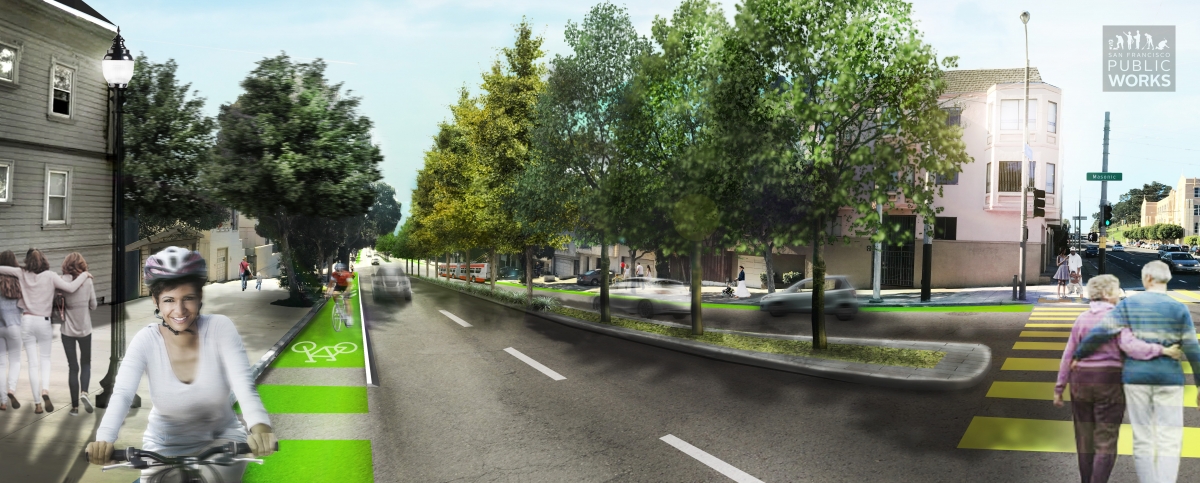 Plaza Rendering at Masonic Avenue and Geary Boulevard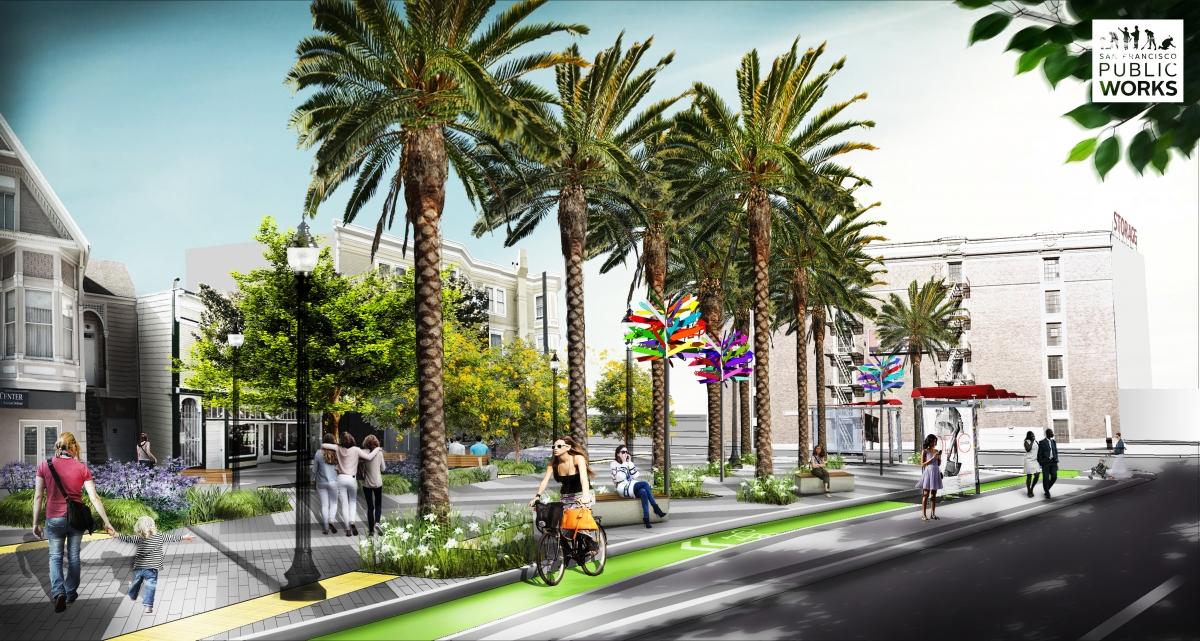 Presentations
Schedule
Community outreach and planning phase: Completed. Conducted 2008-2012.
Design and bid phase: Winter 2014 to Fall 2015.
Construction phase: July 2016 to Spring 2018.
STATUS In Progress
Location
Masonic Avenue from Geary Boulevard to Fell Street
District
Start Date July 2016
Completion Date April 2018
Project Manager
David Froehlich - (415) 558-4041
Project Team


Contractor
Shaw Pipeline, Inc.
150 Executive Park Blvd Suite 3790
San Francisco, CA 94134
(415) 337 0190 Main Office
(415) 740-8008 After-hours 
Contact
Alex Murillo - Public Affairs Officer